Yacht Donation Services and Information
Donating a yacht to charity is often a better choice than selling your vessel.
Are you having trouble selling your high vessel or yacht?
Is the value of your high value vessel greater than $100,000? Did you know less than 5% of all yachts listed actually sell within the first two years?
Many times, donating a vessel is far more beneficial than actually going through the hassles of selling the vessel!
Action Donation Services® specializes in processing yacht donations for some of America's finest charities such as the Wounded Warrior Homes, Boy's and Girls Clubs, Providence Center for Coastal Studies and charity chapters such as Special Olympics, Ronald McDonald House Charities, and Paralyzed Veterans of America, just to name a few. We specialize in maximizing the legal tax savings that a donor may receive.
This beautiful Jefferson 46 Sundeck was donated to one of our qualified client charities in Florida. Action® made needed repairs and upgrades to this vessel to increase its value — and as a result, then sold it retail thus benefiting the charity and the donor.
Consider donating your vessel to one of our qualified client charities and claim the maximum legal tax deduction and possibly a partial cash payment.
CALL OUR NUMBER TODAY: 619 669-5183 FOR MORE INFORMATION
OR COMPLETE OUR ON-LINE DONATION EVALUATION FORM BELOW.

On-Line Yacht Donation Form
RECEIVE A "NO OBLIGATION" EVALUATION OF YOUR POTENTIAL DONATION. PLEASE TAKE A FEW MOMENTS TO COMPLETE OUR ON-LINE DONATION FORM – IT ONLY TAKES A FEW MOMENTS TO MAKE SURE YOUR POTENTIAL DONATION WILL BE BENEFICIAL TO YOUR CHARITY OF CHOICE.
IRS Tax Deduction Based on Full Survey Value of Your Vessel May Be Possible
If you have a qualified donation, we will explain the Action Donation Services Guarantee, which assures the donor that the program meets the requirements of the Internal Revenue Service. Our program assures the donor that they can claim 100% of the gross sale price or the full survey value of the vessel depending on the program selected.
Unlike other donation services or charities that limit your deduction to the amount the vessel brings at auction—usually a mere fraction of full appraised value—the Action Donation Services Tax Advantage ProgramSM maximizes the value of your donation and guarantees that you may claim the maximum legal tax deduction based on the full survey value of your vessel at the time of donation.
Why Action Donation Services®?
Action Donation Services® is singularly capable of maximizing your tax deduction for donation of your vessel. Our Action Donation Services Tax Advantage ProgramSM is unique because we have the worldwide capability to facilitate and completely renovate any yacht or ship. We also guarantee your donated vessel will be retained by a qualified and relevant charity for the sufficient time period to meet IRS requirements, allowing you to claim the maximum legal tax deduction based on the survey value of your vessel at the time of donation.
This beautiful donated Ocean Alexander 74, the "Coconut" is currently (2021) being facilitated for one of our client charities.  This vessel is valued at $2.2 million dollars!
This unique and lovely 05 Mainship 400 was picked up in Annapolis, MD, and then transported to a yard in Solomons, MD, where it was restored to like new condition and prepared for retail sale.
This 89 Hatteras was restored by Action Donation Services® in San Diego, California to benefit a client charity located in Florida—a charity devoted to protecting the environment and sea mammals.
Action represents a wide range of America's highly recognized non-profits, foundations, and charity chapters. For years, these charities have relied on Action Donation Services' sophistication and expertise to maximize their property donation income. That same expertise is now available to the private donors of valuable yachts.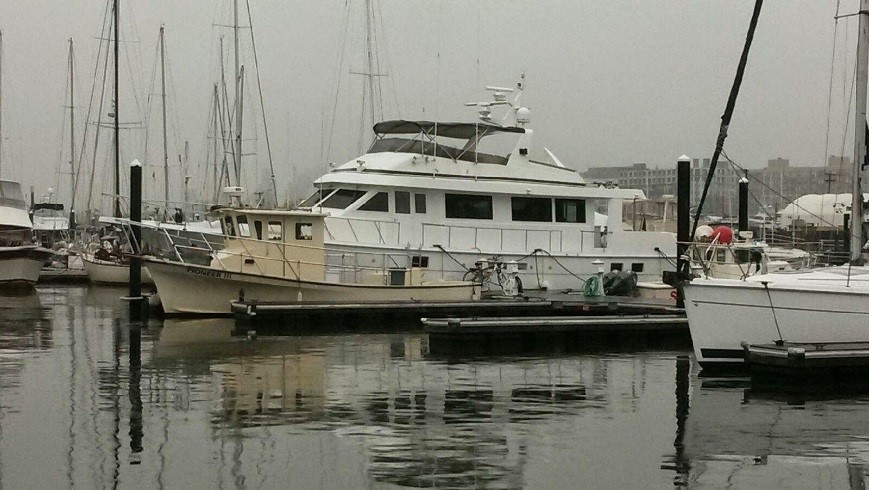 Another example of how Action Donation Services® goes the "extra mile" to maximize the value of a donation. This 74' Hatteras was transported days before the Erie Canal was closed for the season and hours before a big winter storm. This vessel was brought all the way from Catawba Island, Ohio—through the Lock's—and down the East Coast to Palm Beach, Florida to maximize its value for the donor and the charity!
See What Yacht Donors and Brokers are Saying About Action Donation Services®
"I was in the process of selling my beautiful Hatteras 45 that I had maintained to a very high standard. The broker I had listed with took it out on a sea trial and the port engine blew. You can imagine my dismay. Not only was the boat not going to sell, I was looking at a huge repair expense.
I found Action Donation Services. I explained what happened and they were still willing to accept the vessel. They immediately took possession of the vessel. They completed approximately $70,000 in necessary repairs, and because of that, I was able to realize the full appraised value as a write off on my taxes. No other facilitating company would invest like that in a donated vessel. Not only did I save tens of thousands of dollars in repairs, I got a significant tax write off. Action Donation does it right! Thank you for your time and effort." – ADS ID# 0516-11965, Long Beach, CA. –
"Action Donation Services is very professional and prompt. They will go the extra mile for their donors and charities, including transporting vessels hundreds of miles to make sure they are in the correct market. They will perform the necessary repairs to make sure they are retail ready and it makes our job of selling them that much easier. We look forward to continuing to work with Action Donation Services."
– Bart White, Sales Brokerage Mgr., Dare Marine & Yacht Sales, Yorktown, VA –
"As a broker for Camper and Nicholsons in Palm Beach, FL, I had the pleasure of working with Action Donation Services. They are honest and have integrity in all that they do, and Action is definitely what they are all about. In a matter of a few days, they were able to secure the donation of a 74 Hatteras in Catawba Is, OH on Lake Erie, get it inspected and splashed, secure a crew, and transport the vessel through the Erie Canal with barely hours to spare before the canal was closed down for the entire winter season. By doing this, the vessel wasn't landlocked for the entire winter season but down in sunny So. Florida where we could easily sell such a desirable vessel, not being limited by the season.
They accepted my recommendations regarding the vessel, and as a result I could quickly sell this vessel for more than the surveyed value especially after Action Donation Services' investment in suggested repairs. Their perseverance and dedication allowed the donor to get a higher tax right off and more money to the local charity, Sea to Shore Alliance, whose mission is to protect our Manatees and our most endangered Right Whales. It was a phenomenal win-win-win. I was able to sell a quality yacht, the donor was able to receive a higher tax deduction, and, most importantly, our local charity got much needed funds. I would happily work with Action Donation Services again." – Michael Rafferty – Camper & Nicholsons USA
Links to Reliable Sources Relating to Donating a Vessel
Be sure to discuss your donation with a competent tax professional before claiming any tax deductions.
How Do I Donate?
To begin the donation process, please contact Action Donation Services® at your convenience to discuss without obligation your contemplated luxury boat or yacht donation with our experts.
CALL TODAY: 619 669-5183 or COMPLETE OUR ON-LINE DONATION FORM ABOVE